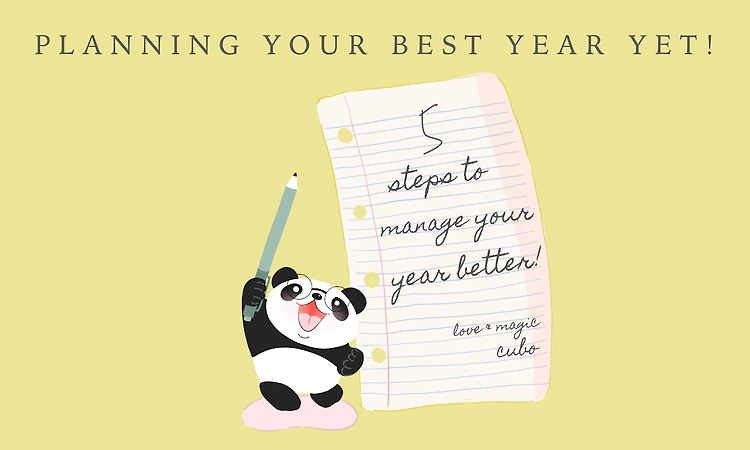 PLANNING YOUR BEST YEAR YET!
5 simple Cubo steps to manage your year better!
Woohoo, it's 2022 and its fresh, minty and new. To keep it shining and your best year yet, simply follow these five Cubo steps (Cubo claims to have cracked the code – tall claim or real, what do you think?
Tip 1 – Set your BIG goals
Cubo says – "Fast Forward to 31st December 2022 and list down the 3-5 areas you were able to achieve during the year and list the same at each month end, backwards from 30th Nov 2022, 31st Oct 2022... Get the picture? End of each month use colours and/or symbols to rate your month- ❤️ 👌🏻 🐼 👏🏻 👍🏻 "

Tip 2 – Invest 10 mins each day – love each day
Cubo says – "Take the first 5 and the last 5 mins of each working day and jot down what you expect from the day and how it was… Don't just let each day pass – live and love each day cause 2022 has 365 opportunities for you!"
Tip 3 – Invest in you!
Cubo says - "Work life balance is not cliche'd. Good work is from the efficient you BUT great work is from the happy you. Take care of the personal you - track your good habits, personal resolutions, finances and so much more, so you have more reasons to pat yourself on the back and smile as you live through each workday - excelling of course"
Tip 4 - A splash of colour = A dash of FUN!
Cubo says - "use highlighter and the over 200+ stickers in your planner to express your emotions - sketch and doodle freely. Feel even more energised in addressing routine and boring, yet important, tasks. Who says work can't be fun - you can see even the monochrome me (Cubo), surrounded by colour and always having serious fun, hehe."
Tip 5 - Create reasons to celebrate
Cubo says - "people celebrate events - birthdays, anniversaries etc. But how about creating events. Events like completing a task well, and on time, and earning accolades. Mark your monthly outlook pages with preset events of friends, family and colleagues - so never miss them. Fill many empty spaces with created events - write into date boxes 'Completed a creative brief, and the folks loved it!' on an expected date of completion. Don't forget to mark the start date too - 'Start working on the creative brief masterpiece' and find good reasons to celebrate."
Love and magic,

A note from Shivali:
So that was Cubo rattling off his cool tips for delivering your best year ever. He thinks he's the smartest one around and challenges you to share your tips and beat him on popularity - up to it, are you???
Oh yes, if you do win and your tips earn a lot of popularity (likes & shares) Cubo's going to send you some special gifts, and that's his promise!